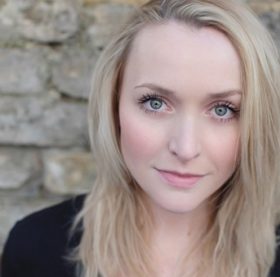 Originally from Wales, Hanna trained at the American Academy of Dramatic Arts, New York, after gaining a BA honours degree in English and Drama from Queen Mary University of London. Since starting her career as part of the National Youth Theatre and National Youth Music Theatre, she has gone on to perform in numerous productions Off-Broadway and throughout the UK with her most notable roles being Maria in 'West Side Story' at the Bridewell Theatre, London and Queen Elizabeth I "Queenie" in an open-air production of Blackadder.
Under the instruction of some of the industry's best teachers, Hanna gained a distinction in a Musical Theatre diploma from Trinity College London and has also gained qualifications in classical singing and piano.
Hanna has a vast amount of experience in workshops and producing new theatre works and comedy sitcoms, performing as lead roles for original casts in venues such as the Wales Millennium Centre, West Yorkshire Playhouse and in the pilot episodes for numerous television series. Her versatility, comic timing, vocal and acting range has allowed her to perform in many roles on stage and screen and make her the perfect character party entertainer.
Her passion for travelling and performing also took Hanna to the seven seas where she performed on Princess Cruise Lines and Viking Ocean Cruises. Hanna will be touring Vienna in Oscar Wilde's play 'The Canterville Ghost' this Autumn, but will be back with Spellbound in 2020!
Hanna enjoys a varied career as a performer and teacher, covering a variety of disciplines including drama, singing and dance at numerous stage schools throughout London, Surrey and Kent, as well as coaching children through LAMDA examinations and singing exams. Hanna's previous role as Princess Fiona at Shrek's Adventures London gives her the perfect party host experience and she is extremely excited to be revisiting her Princess days, whilst spending her weekends dressing up and having fun with the birthday boys and girls of Spellbound. She looks forward to meeting all the cheeky partygoers!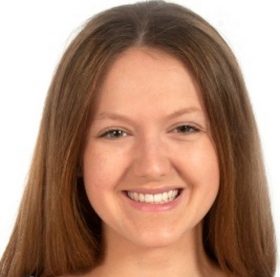 Amber is one of our brilliant, bubbly, energetic entertainers who has been performing from a very young age, in Drama and Musical Theatre.   She trained for seven years at theatre school and achieved Distinction in Performing Arts BTEC (Acting) and Performing Arts BTEC (Dance) at The Ravensbourne School. Amber's theatrical roles, whilst training, include 'Jan' in the Musical Grease, 'Mrs Warbucks' in Annie, 'Bianca' in The Taming of The Shrew and 'Adriana' in Comedy of Errors.
Her professional credits include 'Toymaker' in Chitty Chitty Bang Bang, 'Matron/Dynamite' in Hairspray and 'Vi Moore' in Footloose. Amber also experienced dancing in Disneyland Paris and on two West End Stages in London. 
Amber is very excited to have joined team Spellbound as she has a passion for working with children of all different ages. Her favourite part of any party is seeing the children have fun and watching their faces light up with joy. Amber also loves any excuse to dress up!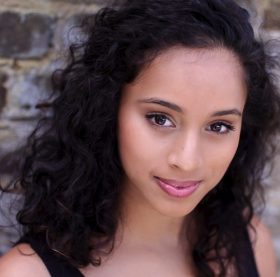 Leah is our brilliant, bubbly, fabulous children's entertainer and teacher, based in South East London.  Leah is a positive, hard working and thoughtful individual.   She has been performing since a very young age and spent three years training in Musical Theatre at the Reynolds Training Academy in Dartford. Performing and working with children are her passions and she loves her work! 
As a talented performer, Leah's theatre credits include 'The Genie Of The Ring' & 'dancer' at The Greenwich Theatre, for a Christmas production of Aladdin as well as many other pantomime productions over the years. Also a very talented vocalist, Leah has performed as lead singer in various hotels contracts and cruises in, and around, Cyprus and Spain. She also portrayed 'Baby' in Dirty Dancing as well performing in Mamma Mia and Grease. A seasoned Musical theatre pro!
Leah is very much in demand as a solo vocalist too, hosting events at local venues, where she delights the crowds with her lyrical and powerful singing voice.
Leah's work experience with children includes working as a party mascot, and party host, for various events companies. She works as as a teacher of drama and musical theatre during the week, and her vast experience also includes teaching children of all ages at private primary schools and independent theatre schools.
Leah loves working with children and is delighted to be a part of the fabulous Spellbound team.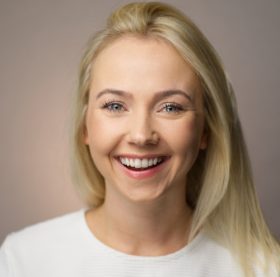 Ellen, our friendly, smiley, bubbly entertainer, hailing from Essex, is a professional singer and dancer who has performed on the stage from a very young age. She trained in Musical Theatre at the University of Chichester and then went on to study Performing Arts at The Associated Studios in London.Ellen's professional credits include the prestigious Disneyland Paris where she was a dancer in the famous parades. She was also involved in a special event for Disneyland Paris where she took one of the principal parts as Daisy Duck.
Ellen spent a year with Warner Leisure Hotels as lead vocalist, taking part in various musical performances including the lead role in 'Jack and the Beanstalk'. Ellen is also part of 'The Lipsticks', a Vintage singing trio who tour the UK at various gigs and festivals.
Ellen regularly sings and performs as a fairy with a children's charity, which visits London Hospitals to entertain children who are poorly, to brighten their difficult days in hospital. Ellen has found this to be an extremely rewarding experience and loves to bring smiles and joy to the children.Ellen has taught Dance and Musical Theatre to children for many years and thoroughly enjoys working with, and teaching, children. 
Ellen has a lot of experience entertaining at children's parties and, we think you'll agree, makes a wonderful princess! Ellen loves all things sparkly and glittery too! The Unicorn party, Fairy party, Princess party and Magical Creatures party are her favourites! Ellen is very excited to be part of the Spellbound team!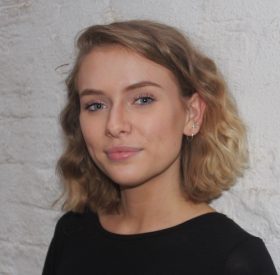 Kate, our fabulous children's entertainer and assistant drama teacher, adores singing, acting and performing in all genres of theatre. Kate has a passion for working with children, both as a teaching assistant for The Ravensbourne School's drama department in Bromley, and as a children's entertainer with Spellbound Parties. The power of drama to transform a child's life and develop their creativity is a key motivator for Kate.
Kate achieved 4 A* certificates in A-Level including Performing Arts (acting) and Music Technology. Her roles include 'Sandy' in the school production of 'Grease,' Greta in Steven Berkoff's adaptation of Kafka's 'Metamorphosis,' 'Helena' in 'A Midsummer Night's Dream', 'Ophelia' in 'Hamlet' and Annie in 'The Gut Girls.' Kate has also been a part of The Ravensbourne Youth Theatre for many years.Kate has been a teaching assistant for three years within the E21C Trust where she is given opportunities to plan and teach her own lessons in both primary and secondary schools. 
Kate has been offered an unconditional place to study Drama at the University of Greenwich.Kate's favourite party theme is the Princess party and her favourite part of a party is being silly and seeing the happy, smiling faces of all of the children and helping them to have the best possible time….and the parents too!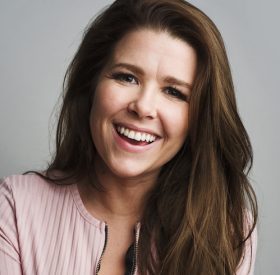 We are very lucky to present to you, Lucy-Jane, one of our fabulous Spellbound entertainers (and we think Lucy-Jane is really Sleeping Beauty in disguise!!) Lucy trained at the Mountview Academy of Theatre Arts and graduated with a BA Honours degree in Musical Theatre.
Her first role upon graduating was the title role in 'Cinderella' at the Key Theatre in Peterborough, where she returned two years later as Maria in 'West Side Story' and Alice Fitzwarren in 'Dick Whittington'. Lucy-Jane also reprised the role of Alice Fitzwarren at Harrogate theatre the following year.Lucy-Jane went on to appear in many independent films including the comedy, "Where Do We Go From Here?" and she has also worked extensively in the Voiceover commercial world, singing for the video game 'Guitar Hero' and supplying the Voice for the role of Kitty in the International Tour of 'Hello Kitty – Fashion and Friends'.
Further pantomime credits include Dorothy in the Wizard of Oz (Cresset Theatre) and Isobel in A Christmas Carol (Litchfield Garrick). Lucy-Jane will be gracing the Chipping Norton theatre stage this Christmas in 'Puss in Boots'.
Lucy-Jane has a range of experience in directing and working with children and loves watching their confidence develop in the land of make believe and still admits to being a big kid herself! She is thrilled to be a part of the Spellbound Team.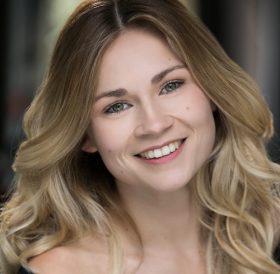 We are thrilled to introduce you to our delightful children's entertainer, Hollie. Hollie is our bubbly, friendly, bundle of energy and is obsessed with everything 'princessey' so this is the perfect job for her! Hollie is a professional singer, dancer and actress and has excelled in the Arts since she was a child.  
As a prominent performer at school, Hollie won the lead role of Sandy in the annual production of Grease as well as performances in 'Urinetown' and 'Guys & Dolls' whilst at college.
As a dancer, Hollie's professional credits include ITV's 'Surprise Surprise' and Ant and Dec's 'Saturday Night Takeaway.' Hollie has completed her training at one of the most recognised musical theatre schools in the country, Bird College of Dance, where she gained a diploma in Professional Musical Theatre and Dance. Hollie completed her professional debut by performing in 'Sleeping Beauty' at the Newport Riverside Theatre in Wales and will be returning there this year to perform in 'Cinderella'.
With 4 years experience teaching Musical Theatre at the Italia Conti Chislehurst associate school, Hollie has found a passion working with, and entertaining, children. Whilst at Italia Conti, Hollie taught children between the ages of 3-18 a mixture of dance, singing and musical theatre.Hollie has been entertaining children for a number of years as a princess, superhero and fairy and is now delighted to be a member of the Spellbound team! She looks forward to meeting you at your party and playing lots of games, doing lots of dancing and singing, and ensuring you have as much fun at the party as she always does!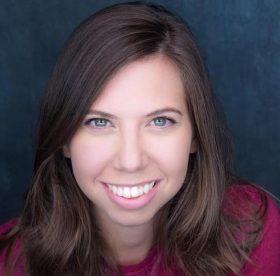 We are very excited to introduce to you, Anna, our very own ice princess! Anna's passion for acting first started as a child, through a love of dressing up and playing make believe, which makes her the perfect person for the job of a children's entertainer! Anna is now a professional actress, having acquired her Equity card through her training at The Oxford School of Drama, where she graduated with Distinction in 2011. Anna continues her acting training with the renowned Salon: Collective where she studies the Meisner Acting technique under the tutorage of Dominic Kelly.
Anna's first professional acting job was voicing 'Emily' for the Doctor Who audio book 'The Companion Chronicles'. Since then she has played 'Helena' in 'A Midsummer Nights Dream', 'Abigail' in Arthur Miller's 'The Crucible', 'Oswald' in 'King Lear' at The Cockpit Theatre in London with the Darker Purpose theatre company, and 'Valentine' in 'Two Gentlemen in Verona'. Anna has appeared in numerous short films including 'Petal Child' as the character Avery, directed by Glass Spire Productions, the title role of 'Martha' in a film by White Point Star Productions, directed by Grant Webb and as Mae Brooks in the film 'After The Bell' by Rebel Pictures. You can also see Anna in the Music Video 'Hen' by 'The Nothing.'
When Anna is not performing on stage she teaches Drama to young children and coaches them for their LAMDA examinations. Spellbound are delighted to have this talented, sparkly and brilliant lady as one of our entertainers and Anna is thrilled to be a children's entertainer with Spellbound Parties.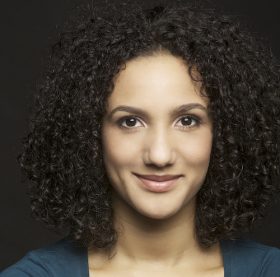 Ellie trained at The Urdang Academy on a three-year Musical Theatre and Professional Dance course, graduating in 2015 with a B.A.(Hons) Degree. Her professional credits include: 'Player' in 'Pippin The Musical' at the Southwark Playhouse and also at the Hope Mill Theatre in Manchester. 'Dance Captain/Cover Fairy Godmother' in 'Cinderella' at the Lighthouse Theatre Poole, 'Mowgli' and 'Kaa' in Image Musical Theatre's touring Pantomime of 'The Jungle Book', 'Jill' in Pyramid Production Ltd's touring pantomime of 'Jack and the Beanstalk', H&M's 2015 Television Christmas Campaign as a dancer, the Oxfam's 'Gaza Blockade Advert' as a model/actress and 'Strictly Come Dancing's' Television Launch Show in 2013, as a featured dancer. 
Ellie completed the UK National tour of Doctor Doolittle and has also recently returned from South Korea where she was performing in the musical 'The Wedding Singer'. Alongside her performing career, Ellie has continually worked as a musical theatre and street dance teacher across theatre schools and primary schools throughout London. Upon graduating from University, during her contract as 'Mowgli' in a production of 'The Jungle Book', the show toured to primary schools all over the UK and Ellie led workshops for the children, teaching them show songs and actions prior to the performance.
Ellie has always had a passion for performance and theatre. She has found her niche and confidence as a teacher and is excited for the opportunity to be onboard as a Spellbound Parties entertainer. She is thrilled that she can combine these two elements and create a magical experience for children.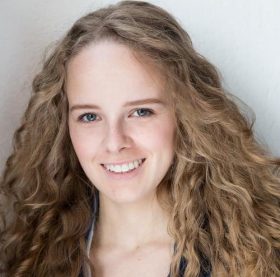 Lucy is a professional dancer, singer and actress, with a Diploma in Musical Theatre Performance from the prestigious Italia Conti Academy of Theatre Arts in London. Since graduating, Lucy's professional credits include Robin/Dance Captain in Godspell (Camden Fringe Festival – Upstairs at the Gatehouse), Dancer for BBC's Let's Sing and Dance for Comic Relief, Dancer for Chelsea Flower Show, Singer at Belbroughton Scarecrow Festival, Ivanka Trump in The People Vs Donald Trump (The London Theatre) and Jasmine in Aladdin (Chaplins Pantomimes) to name a few.
Lucy has also recently returned from her second tour of Italy, where she performed across the country and lead acting and performance workshops helping children learn English.
Lucy is an IDTA qualified teacher with years of experience and a real passion for working with children, and is excited to be joining the Spellbound team!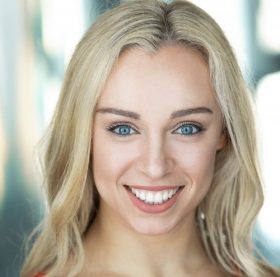 Chloe is our bubbly, smiley children's entertainer, who initially trained at The Brit School and then went on to the prestigious Bird College, where she recently graduated with a Bachelor of Arts degree in Dance and Musical Theatre.  Whilst training, her theatre credits include Lisa Hopkins in 'Made In Dagenham' and a featured dancer in Euphorika and Ensemble in the musical, 'Bye Bye Birdie'. This year, Chloe is delighted to be making her professional theatre debut, performing in the title role, in 'Cinderella', at the Lincoln Drill Hall Pantomime.
Chloe's Film and Television credits include a Dancer for Children in Need (BBC) and a Dancer for Comic Relief (BBC Broadcasting House).  Other credits include a Dance to break a Guinness world record (Universal) and as a Scare Actress (Tulleys Farm Shocktober Fest)
Chloe has worked as a teacher of children at various Stage and Performing Arts schools for over 5 years, working with children between the ages of 3- 7 years, with their drama, singing and dance skills. She has a wealth of experience choreographing dance performances and shows.Chloe loves all characters and fairytales but the tales of the Little Mermaid are her favourite!
Chloe is delighted to be a member of Spellbound Parties as she loves to make the children smile and bring joy to their special day.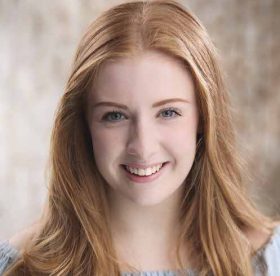 Olivia has trained in Musical Theatre and Dance at Gillham School of Performing Arts and later at Emil Dale Academy on their full time BTEC course.  She is now completing her training at The Urdang Academy in London.
 Olivia has performed in lots of shows in theatres in Kent and London.  Olivia's performing theatre credits include: Audrey in 'Little Shop of Horror's at the Orchard Theatre, Dartford, Elle Woods in 'Legally Blonde' and Vanessa in 'In the Heights' at the Factory Playhouse.  Ensemble in 'Pendragon' with the National Youth Musical Theatre and she has also performed as Mary Lennox, in the UK tour of 'The Secret Garden' at The Kings Head Theatre (Islington), Tunbridge Wells, Croydon and St Albans. Other credits include Lucy in 'The Goodbye Girl' Upstairs at The Gatehouse and 'Mermen's Apprentice' at the Landor Theatre, both in London.
Olivia's work as a dancer has led her to be a part of the cast of the Ballet, Giselle, which she performed at The Churchill theatre, Bromley, with the English Youth Ballet.
Olivia has performed in the Voice In a Million concert at Wembley Arena and has sung on The Secret of Joy Soundtrack, and several Nursery Rhyme CDs.
Olivia has worked at Emil Dale's Weekend School in which she has gained lots of experience working with children of all ages as a Musical Theatre teaching assistant. Olivia adores every aspect of performing and is extremely excited to be a part of the fantastic Spellbound team.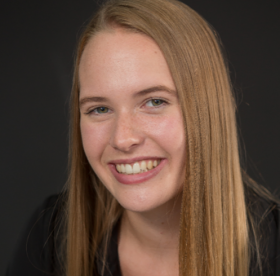 Eloise is currently studying at East 15 Acting School on their Cert HE Theatre Arts course in Southend, Essex. Previously she attended Rose Bruford's Part Time Acting course.
From a young age Eloise took part in acting classes and LAMDA examinations through an Italia Conti associate school. Through the Italia Conti Acting Company Eloise co-wrote, produced and performed original script 'Fireball'.  She also began teaching Acting to young children from the age of 5 and upwards, at Italia Conti too. Here she found a passion for working with children and their incredible imaginations.  
Professionally Eloise has performed as an extra in 'The Horrid Henry Movie' and 'Days of the Bagnold Summer'. Through Italia Conti, Rose Bruford and East 15, Eloise has gained invaluable skills through a range of genres, styles and performance spaces. These make her a very adaptable and creative performer. 
Eloise loves Christmas and the excitement it brings to families, making her the perfect Christmas Elf! She loves dressing up and having fun and cannot wait to help get families in the Christmas spirit this year!